Welcome to our water parks in Wyoming page. If you aren't familiar with our site, grab a cold beverage and settle in. We provide you with information and deals on water parks all around the globe.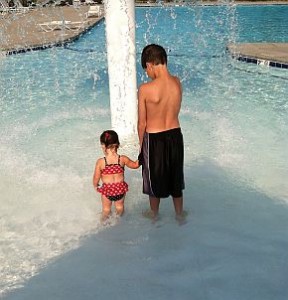 One of our least populated states, Wyoming is absolutely beautiful. If you have never been here you are really missing out. No matter the time of year there is something fantastic to do outdoors in the country.
From hiking to white water rafting, Wyoming has it all. What about water parks though? Well there really isn't much to chose from.
We hope that we are wrong, but we were only able to find one water park in Wyoming. This really is a shame. With such breathtaking scenery it would be a blast to ride a water slide that overlooks a forest of trees.
Someone get out there and build a destination theme park in Wyoming!
Below you will find information on the water parks we found in this state. At the beginning of each snippet of information you will find a link to the full information page about that park. Check it out.
Outdoor Water Parks in Wyoming
Thermopolis – Actually known more for the hot springs than being a water park, Thermopolis offers a relaxing get a way for the entire family. There are many outdoor activities to keep you busy around this water world. Take a look.
Indoor Water Parks in Wyoming
Unfortunately we weren't able to find any indoor water parks in this state. While Thermopolis does have some indoor activities there definitely should be something like Great Wolf Lodge here. I am just waiting for the day I can enjoy fun indoor water activities in Wyoming.
We sincerely hope you found all the information about Wyoming water parks that you were looking for.
We strive to provide the most up to date and accurate information possible. If you have any questions or concerns, please email us by using the "contact us" link here or the top of any page.
As you can probably imagine, it is rather difficult to keep up with water parks all over the world. We sure could use your help.
If we have missed your local water park or one you know about, please help us out by leaving a comment below.
Now get out there and have some fun in the water in Wyoming.