Welcome to WPW's water parks in South Dakota page. Here at Water Parks World we are self proclaimed water park junkies. These parks are our passion and there is nothing we enjoy more then sharing information about them (besides visiting one).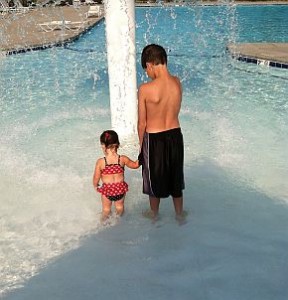 Indoor water parks are fantastic. They allow you to get away from the stress of every day life and lounge out on a lazy river. Sounds great doesn't it?
In the summer, the weather is sunny and warm. Perfect for the outdoor version of these parks. You can rest assured that you can find both in this great state.
What are you waiting for?
Below you can find information on all water parks we found in South Dakota. At the beginning of each snippet of information is a link to our full page on this park. Make sure to check each one out.
Outdoor Water Parks in South Dakota
Wild Water West, Sioux Falls – Ah, there is nothing quite like a full service water park. This one looks fantastic. They have many different attractions to chose from. There should definitely be something for anyone in your group. Check the link above for more information.
Rushmore Water slide Park – While this may not be the biggest water park in the world, it still offers a great deal of fun in the sun. With many slides and pool area's to chose from, this park, located in Rapid City, will definitely be a fun day for the family.
Indoor Water Parks in South Dakota
WaTiki Indoor Water Park – Another park in Rapid City, this one is of the indoor version. Offering a 30,000 square foot indoor water wonder land, WaTiki is sure to thrill all ages. Check out our full information page to find out more.
Evans Plunge, Hot Springs – It may not be huge but it sure is cool. This indoor water park is 100 percent spring fed. There really isn't anything else quite like this. Relax in the mineral water and let your cares float away.
We sincerely hope you found all the information you were looking for about South Dakota water parks. We strive to provide the most accurate and up to date information possible. If you have any questions feel free to email us using the "contact us" link here or the top of any page.
As you can probably imagine, it is rather difficult to keep up with all these water parks. We really could use your help. Please let us know about any parks we missed by leaving a comment below.
Now get out there and start having some fun at one of the water parks in South Dakota.