Welcome to WPW's water parks in Pennsylvania. We are you number one resource for information about water parks from all over the globe. We are, as some would say, a little too enthused with these parks.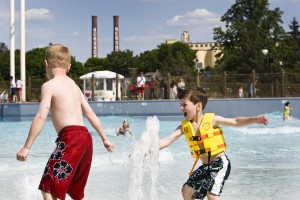 While Pennsylvania may be a northern state, and not have the most terrific weather for water parks, it still has a lot to offer. The weather here, during the summer, is warm and makes for a good atmosphere for fun in the sun.
In the winter, Pennsylvania is well, not so great. So does cold and snow mean that you can't have fun in the water? Not at all. This state has a tremendous selection of indoor water parks to chose from. Fun in the water year round.
Below you will find information about all Pennsylvania water parks we found. At the beginning of each blurb of information you will find a link to the full information page about that park. Make sure to check them out.
Well, what are you waiting for? Fun is awaiting you below.
Outdoor Water Parks in Pennsylvania
Wild Water Kingdom, Allentown – Wild Water Kingdom is a terrific park that is part of the Dorney Amusement Park. For one low price you get a ticket to the amusement and water parks both. A great day of fun is guaranteed.
Camel Beach Mountain Water Park – With things like a wave pool and plenty of water slides, Camel Beach located in Tannersville PA has plenty to offer no matter the age range of people in your group. Check it out in our full page link.
Water World, Erie – Part of the Waldameer amusement park in Erie Pennsylvania, Water World is a separate water park that offers a good amount of attractions. From the kiddie play area to the water slides this looks to be a great time.
Tipton Water Works and Rapids – While this isn't the biggest park in the state, Tipton Water Works located in Tipton, PA still offers a good time for all. They have plenty of slides and fun to go around.
Hershey Park and the Boardwalk – Now what would a summer be without a trip to the Boardwalk at Hershey Park? If you haven't heard about this place, you must check out our full information page for more information.
Sand Castle – Located in Pittsburgh, the Sand Castle water park is guaranteed to provide fun for the whole family. From the kiddie area to the Lightning Express, this park offers something for everyone. Check the link above for all this parks information.
Idle Wild and Soak Zone – Located in Ligonier, Pennsylvania Idle Wild and Soak Zone are another amusement / water park combination. There is nothing quite like going from a water slide to a roller coaster. How fun is that?
Sno Cove – From the Tundra Tornado water slide to the Baby Moose Watering Hole, Sno Cove located in Scranton, PA has something for the whole family. Make sure to check out our full information page by clicking above.
Indoor Water Parks in Pennsylvania
Splash Lagoon, Erie – Splash Lagoon in Erie PA is a fantastic water park with many, many attractions. The kids will definitely not get bored here and you will have a blast watching them have fun in this indoor water wonder land.
Great Wolf Lodge, Pocono Mountains – If you have read through our site at all, you know we are huge fans of the Great Wolf Lodges in general. This one, like the others, offers great family fun. Located in Pocono Mountains, the scenery is also fantastic. Make sure to check this indoor water park out in the link above.
Split Rock Resort and Golf Club – Split Rock Resort and Golf Club, paired with the H20oooh water park are a terrific family get-a-way. If you are a golfer or skier, this is a terrific place to take the family and let them play in the water as you play a great round of golf.
We sincerely hope you found the information about Pennsylvania water parks that you were looking for.
We strive to provide the most up to date and accurate information possible. If you have any questions or concerns, please feel free to email us using the "contact us" link here or at the top of any page.
As you can imagine, it is rather difficult to keep up with water parks from all over the world. We really could use your help. If we have missed your local water park or one you know of, please help us out by leaving a comment below.
Now get out there and have some fun at one of the water parks in Pennsylvania.