Searching for the best Water Parks in Nebraska? You have come to the right place. WPW has information on water wonder lands all over this country and the world. Find out what Nebraska has to offer.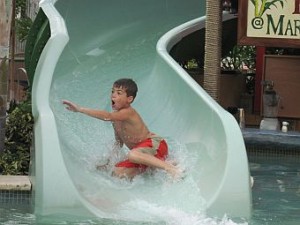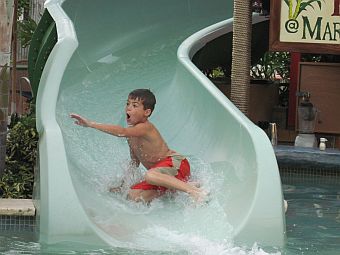 Maybe you are planning a family vacation or you live in Nebraska and are just looking for a day of watery fun. Nebraska water parks are a great way to do that. There are both outdoor and indoor water parks for you to chose from.
The summers heat in the midwest can be intense, likewise the winters can be blustery. In the summer, Nebraska has several outdoor water parks to chose from and in the winter you can relax in a pool at CoCo Key as it snows outside.
Below you will find a information snippet on each water park we found in Nebraska. At the beginning of that bit of information, you will find a link to the full page about each park. Browse them all.
Enough procrastinating, let's get to it.
Outdoor Water Parks in Nebraska
Island Oasis Water Park – This park is a community water park. But, this is a good one. They have plenty of activities for you to chose from including water slides and a kiddie area. Jump on in to our information page to find out more.
Fun Plex, Omaha – Fun Plex, located in Omaha Nebraska is a amusement and water park combined. One minute you can be soaking wet in a pool and the next you can drying off on a roller coaster. A cool place, it is guaranteed to give thrills to anyone in your party. Check it out through the link above.
Fremont Splash Station – Maybe its because there isn't any corporate water parks in Nebraska, but they have some excellent community water parks. Splash Station, located in Fremont is a great place for a family or group of friends to enjoy.
Indoor Water Parks in Nebraska
CoCo Key, Omaha – If you have been reading through any of our website, you know we are huge fans of indoor water parks. They are a tremendous places to visit no matter what time of year it is. CoCo Key in Omaha is awesome and it has ton's of attractions. Find out more on our CoCo key information page.
We sincerely hope you found useful information about Nebraska water parks. We strive to provide the most accurate and up to date information. If you have any questions or comments, please feel free to email us using the "
contact us
" link here or above.
I am sure you can tell, we are about as perfect as it gets. Ok maybe not. Sometimes we miss something. If we have not included your local water park or one you know about, please let us know by submitting a comment below.
Now what are you waiting for? Get your buns on a water slide at one of the water parks in Nebraska.