Welcome to WPW's water parks in Missouri page. Well I guess depending on what part of the state you are from, this could also be Missoura. Home of the Missouri Tigers and the birthplace of WPW's founder ( not really sure that's noteworthy ).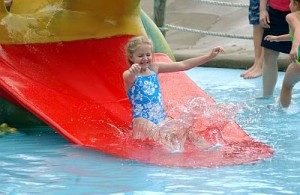 Anyway, if you haven't every visited Missouri, they have a terrific climate during the summer months for Outdoor water parks. During this time of the year it is sunny and warm. The winter while cold and snowy, is still perfect for indoor water parks.
Well, pretty much any time of the year is perfect for these fantastic indoor water parks. This state, located smack dab in the heart of our wonderful country, has a plethora of great water wonder lands to chose from.
In fact, Kansas City and the Lake of the Ozarks have two each. No matter where you go in Missouri you are bound to find a fantastic place to cool off and enjoy the sunny days.
The water parks in this state are so good, I have planned a trip there for next July and will be hitting up at least four of them!
Enough of my rambling. Below you will find information about all the Missouri water parks we have found. Before each blurb of information is a link to our full page about that park.
Still here? Get on with it, check out these water parks.
Outdoor Water Parks in Missouri
Oceans of Fun, Kansas City – Located in Kansas City, Oceans of Fun is part of the World of Fun amusement park area. While the parks are separate and you pay separate, you can buy a value ticket for both parks.
Oceans of Fun has many tremendous slides and rides. No matter the age of people in your party, everyone will find some part of this park absolutely fun. Find out more through our link above.
Big Surf – Located in the Lake of the Ozarks area of central Missouri, Big Surf Water Park offers plenty of attractions to make any thrill seeker happy. The young ones will have a blast on splash island. Grab a lounge chair and check out more about this park.
White Water, Branson – Located in the bustling Branson Missouri area, White Water water park is a destination in itself. There are so many family things to do in this town and water park. You should definitely put this one on your bucket list. Family fun and thrills for the adrenaline junkies, you must check out this water park.
Six Flags Hurricane Harbor – Part of the Six Flags of St. Louis theme park, Hurricane Harbor admission is included with Six Flags. A day here is guaranteed to be fun filled. Get wet in a pool and dry off on a roller coaster. Very cool.
Bluff Falls, Poplar Bluff – Bluff Falls water park and family fun center is located in Poplar Bluff Missouri. Besides the water slides and pools, this place has things like go carts and batting cages. Fun in and out of the water.
AquaPort Water Park – Located in Maryland Heights Missouri, AquaPort is a smaller water park that doesn't come up short on thrills. While small, there is still plenty to do here and will make for a fun filled day in the water.
Indoor Water Parks in Missouri
CoCo Key, Kansas City – There is nothing quite like going down a water slide while you watch it snow outside. This CoCo Key has a massive 55,000 square foot indoor water park that is guaranteed to give thrills to the young and old. Check it out above.
Timber Falls – Located in Osage Beach Missouri, this park is close to the wonderful Lake of the Ozarks. Timber falls claims to have over 600 feet of water slides and plenty of fun water activities for the children. Find out more on our information page.
Castle Rock Resort and Water Park – Being Branson Missouri's only indoor water park, Castle Rock is a fun destination for the whole family. Most indoor water parks only have one dump bucket but this place, they have two. Two 500 gallon bucks which are a blast for the kids. Everyone is sure to have a good time here.
We sincerely hope you found all the information you were looking for about Missouri water parks. We strive to provide the most accurate and up to date information about each park.
If you have any questions or concerns, please feel free to email us using the "contact us" link here or at the top of every page.
As you can probably imagine, it is rather difficult to keep up with every water park in the United States and around the World. If we have happened to miss a park you know about or have been to, please let us know by using the "submit your park" link.
Have you found the water parks in Missouri you want to check out? Good, go get on one of those slides!