Water Parks in Alabama – Indoor and Outdoor
Welcome to WPW's water parks in Alabama page. Here we provide information on all the water parks, both indoor and outdoor, in this state.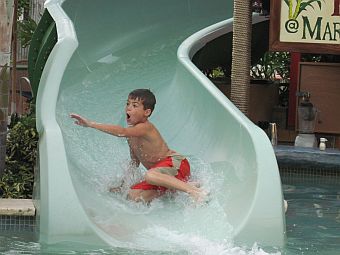 Whether you are planning a trip to the great state of Alabama, or already live there and are just looking for a great day of fun in the sun, we have what you are looking for.
Below you will find information on all the Alabama water parks. If it has water, slides and fun it is sure to be here.
Be sure to browse around and find the water park that has the amenities you are looking for. Alabama has plenty of parks to chose from.
Below are the water parks we found in Alabama.
Outdoor Water Parks
Alabama Adventure – Alabama adventure is located in Bessemer AL. This is a dual role theme park that offers both the traditional theme park combined with what we all love, the water park. Click the link above to find out more about this park
Waterville USA – Waterville USA is located in beautiful Gulf Shores Alabama. This park has been open since 1986 and is less then a quarter of a mile from the beach. It offers all sorts of attractions for you to chose from. Find out more on the Waterville USA page.
Spring Valley Beach – Spring Valley Beach water park is located in Blountsville Alabama. This water park is sure to offer something for people in every age group. Surely you won't be disappointed with the five water slides they offer. Find out more on our Spring Valley page following the link above.
Surfside Water Park – Unfortunately this water park is now closed.  Hopefully someone will reopen it soon.
Point Mallard Park – Point Mallard Park is located in Decatur Alabama. This water park looks fantastic. They offer the traditional things like wave pools and slides, but they also have ice skating areas and other things to keep you going. Find out more above.
Indoor Water Parks
WPW couldn't find any Indoor Water Parks in Alabama. If you know of one we have missed, please let us know here.
As you can imagine, it is hard to keep up with all the water parks from around the country. We need your help.
If we have missed a park in your area or one you know of, please contact us here with the information about the park so we can get it up on the site.
We sincerely hope you found the water parks in Alabama you were looking for. If you have any questions please feel free to email us through the contact us link at the top of the page.