Water Parks in Arkansas – Indoor and Outdoor
Water Parks in Arkansas are a terrific destination for any vacation. While this state may not have the number of parks as some others, if you haven't been to Arkansas then you really are missing out on some beautiful country.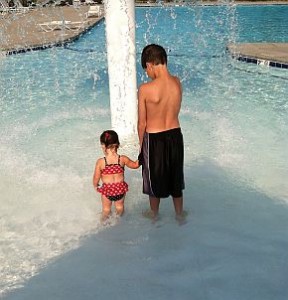 I remember, recently on a trip I took to Eureka Springs, I was taken back by the beautiful Ozark mountains and the green lavish countryside. The only problem is there wasn't a water park there for me to enjoy.
Arkansas doesn't have a major population and that explains their low amount of water parks. What they lack in quantity they definitely make up for in quality.
The water parks in Arkansas really step up to the plate in the amenities they offer and the rides they have. You will not make a mistake by visiting any of these parks.
While indoor water parks have become a recent craze, they tend to be mainly focused in the northern states. Still, I was surprised that I could not find a indoor water park in Arkansas. It seems like their winter climate would support it.
Below you can find information of the Arkansas water parks we found. Each park has a link that takes you to a information page about that water park. Make sure to check each one out before you make any plans.
Outdoor Water Parks in Arkansas
Wild River Country – Wild River Country water park is located in North Little Rock Arkansas. This park has a great amount of attractions. They have a lazy river, wave pool and cool water slides like the Vortex. This is a can't miss for anyone looking for a cool park in Arkansas. Find more with the link above.
Crystal Falls – Crystal Falls water park is actually part of a dual park system. It goes along side with the Magic Springs amusement park. Crystal Falls is located in Hot Springs Arkansas and has many fantastic water rides. One of the new rides you won't find other places is boogie blast. Ride a boogie board on the waves. It is a ton of fun. Click the link above for more information.
Willow Springs – Located in Little Rock Arkansas, Willow Springs is not your traditional water park. It is actually located on a sand bottom, spring fed lake. This park has been open since 1928 and offers many non-traditional water activities. Check it out in the link above.
Indoor Water Parks in Arkansas
Unfortunately for indoor water park fans, we were unable to find any of these great places in Arkansas. We may have missed it. We aren't perfect. Close, but not perfect. If you know of a indoor water park, please let us know by submitting it through this link.
When visiting a water park there are many things you need to consider bringing. Check out our what to bring page to help you not forget anything.
We hope you have found the Arkansas water park information you were looking for. We strive to provide the most accurate and up to date information on all parks. Be sure to sign up for our newsletter for water park deals in Arkansas.
If you know of a park we have left off this page, please use the "submit your park" link to help us keep up to date. We need your help.