Welcome to WPW's water parks in New Hampshire page. When you are thinking about destination vacations, NH might not be the first place that comes to your mind. That's a shame because this is a beautiful state.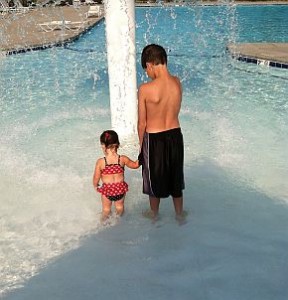 The summer climate here, even though it starts a little later then southern states, is still terrific for outdoor adventures. There are many things to do in New Hampshire and one of them is attending one of their fantastic water parks.
Indoor water parks have become a very fantastic craze all around the world. The awesome water wonder lands let you enjoy the fun activities of water all year round. No matter what the temperature is outside, you can have fun on water slides.
New Hampshire's winter climate is blustery. This makes it a perfect place to enjoy a indoor park.
Below you will find information about all the water parks we found in this great state. At the beginning of the snippet of information you will find a link to full information page about that water park. Check each one of them out.
Outdoor Water Parks in New Hampshire
Water Country, Portsmouth – This is the largest water park in New Hampshire. Water Country, located in Portsmouth NH is a fantastic place to visit. From the Pirates Lagoon to the Adventure River and the 58 foot high Geronimo water slide, everyone in your party will have a terrific time at Water Country. Don't miss all the information on this park. Check the link above.
Whales Tale Waterpark, Lincoln – Located in Lincoln New Hampshire, Whales Tale water park is a whale of a good time. This park has something for just about everyone. Water slides, kiddie area, wave pool and more. This is a water park is a must attend if you are near Lincoln.
Liquid Planet Water Park – This water park is located in Candia, NH. Liquid Planet has a lot to offer both in and out of the water. Your children will love all the different play areas. Check out our full information page.
Indoor Water Parks in New Hampshire
Kahuna Laguna, North Conway – Kahuna Laguna, part of the Red Jacket Mountain View Resort, is located in North Conway New Hampshire. This indoor water park is a terrific place to spend some great family time. They have plenty of slides, pools and hot tubs. Guaranteed to be a good time. Read our full information page.
We sincerely hope you found all the information on New Hampshire water parks you were looking for. We try our hardest to provide accurate and up to date information. If you have any questions or comments, please feel free to email us through the "contact us" link here or at the top of any page.
As you can imagine, it is rather difficult to keep up with every water park in the United States and around the world. If we happen to miss one of your water parks in New Hampshire, please let us know by leaving a comment below.
What are you waiting for? Go get on a water slide!