Welcome to our water parks in Wisconsin page. If you aren't familiar with WPW, we are water park junkies and have made it our life's work to provide you information about these parks from all across the globe.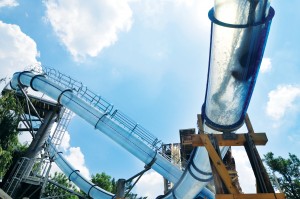 Sometimes in this line of work there are places that thrill and excite us. Places that have a ton of water parks to chose from and every ride imaginable. These are places like Florida, California, Texas and Wisconsin. What? Wisconsin?
Thats right, Wisconsin!
This state has a tremendous amount of water parks and even have the largest outdoor park in the United States. You may be thinking, but what about the weather?
Well it's true that Wisconsin doesn't have the best climate for these water attractions. Many of the parks here are indoor water parks. The Wisconsin Dells area has a very large gathering of these parks in one beautiful area.
Enough of me rambling. On to what you came for.
Below you will find information on all the Wisconsin water parks we found. At the beginning of each blurb of information is a link to the full page about that park. Make sure to check each one out.
Outdoor Water Parks in Wisconsin
Noah's Ark – Claiming to be the largest water park in America, Noah's Ark in the Wisconsin Dell's is a fantastic destination water park. This place has it all from thrill rides to the kids area's this place is great no matter what age your are. Make sure to read our full information page.
Mt Olympus – This place is just fantastic. They offer both indoor and outdoor water parks and many other attractions. The indoor area's are expansive and the outside fun is more then some can handle. You definitely need to check out this Wisconsin water park.
Polynesian Water Park Resort – With over four acres of outdoor water activities and 38,000 square feet of indoor water park, The Polynesian Resort is a fantastic get-a-way for any family. Located in the Wisconsin Dells there are many other attractions in this area.
Indoor Water Parks in Wisconsin
Wilderness Territory – Also located in the Wisconsin Dells area, Wilderness Territory is a very expansive resort with many activities to chose from. Not to be out done by the other water parks in Wisconsin, this resort is fantastic. Click the link above for more information.
Kalahari Resort – Want a place where you can enjoy 125,000 square feet of indoor water fun? Well, Kalahari Resort in Wisconsin Dells would be the place for you. With attractions like the flow rider and wave pool, this place has something for everyone. Check it out above.
Timber Ridge Lodge and Water Park – With water slides, kids area's, hot tubs and 50,000 square feet of indoor water park, Timber Ridge is a great escape from the winter weather. Take the little ones and have a blast in the water.
Atlantis Waterpark Hotel – Located in Wisconsin Dells, Atlantis Water Park is a family friendly place near many other great destinations. Looking for a less expensive place to stay? This could be it. Find out more in the link above.
Blue Harbor Resort and Spa – Located in Sheboygan Wisconsin, Breaker Bay water park at Blue Harbor Resort has something for the entire family. They boast over 50,000 square feet of indoor water fun. Check this place out.
Chula Vista Resort – With indoor and outdoor water park area's, Chula Vista Resort has a great selection of attractions. They have 80,000 square feet of indoor water fun. Do yourself a favor and check out this water park in the Wisconsin Dells.
Grand Marquis – Another indoor water parks located in the Wisconsin Dells, Grand Marquis offers family fun and entertainment at a reasonable price. Check this park out if you want to save a few bucks and still have fun.
Great Wolf Lodge – This Great Wolf Lodge in Wisconsin Dells is a fun filled adventure for those of any age. As you probably know we are big on what these hotels offer in and out of the water. Your family is guaranteed to have a great time at the lodge. Check it out in the link above. One of our favorite water parks in Wisconsin
Timber Camp Water Adventure Playland – At the Meadowbrook Resort. This place offers fun water activities indoor and outdoor. Guaranteed to be a great time no matter what the ages in your group are. Have a look through the link above.
Paradise Landing – A beach in Milwaukee, this hotel offers over 20,000 square feet of indoor water park for your playing pleasure. A good weekend get-a-way for your family. Find out more above.
The Springs Waterpark – With 45,000 square feet of indoor water fun, The Springs Water Park at Country Springs Hotel has a lot to offer. Located in Waukesha Wisconsin, this park could be a great choice for your family.
Tundra Lodge – Located in Green Bay Wisconsin, the Tundra Lodge has plenty of fun water activities to chose from. This looks to be a great place to spend fun filled days with your family or group of friends.
The Waters of Minocqua – As its name states, this water park in Wisconsin is located in Minocqua. Fun activities in a friendly environment is what you can expect. Check this water park out in the link above.
We sincerely hope you found all the information about Wisconsin water parks you were looking for. We strive to provide the most accurate and up to date information possible.
If you have any questions or concerns, please feel free to email us using the "contact us" link here or the top of any page.
As you can probably imagine, it is rather difficult to keep up with all the water parks in the United States. We really could use your help.
If we have missed your local park or one you know about, please let us know by leaving a comment below.
Now get out there and have a blast at one of the water parks in Wisconsin.