Welcome to WPW's water parks in Texas page. We are water park enthusiasts who have made it our life's work to provide information about the best water parks around the world. Settle in and see what Texas has to offer.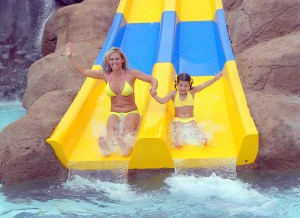 This state definitely has it's share of these water wonder lands. Not only is it a largely populated state with many big cities, but Texas also has the perfect climate for fun in the sun and water.
Texas drew in all the big boys to create water parks here, they even created some of their own with names like Schlitterbahn and Hawaiian Falls. These two have brought the water park game to a new playing field.
With new attractions, like Sea World Aquatica, being built all the time, Texas is bound to stay as one of the top states for fun water attractions.
Check out all of these parks below and make sure to click the link at the beginning of each blurb of information. This will take you to that parks page.
Outdoor Water Parks in Texas
Schlitterbahn, Galveston Island – One of the best water park brands in the world, Schlitterbahn offers huge water parks that are guaranteed to thrill anyone. The one in Galveston has so many attractions that you really must check out our information page to appreciate it.
Schlitterbahn, New Braunfels – From the Dragon's Revenge to Krystal Cove, The Schlitterbahn water park in New Braunfels has something for everyone. No matter the age of the people in your group, they are guaranteed to find something they enjoy here.
Schlitterbahn, South Padre Island – Ah, South Padre. Queue the flash backs of spring break in 1994. Anyway, this is another excellent water park from the good folks at Schlitterbahn. Close to the beach, this is no normal water park. Check the link above for more information.
NRH20 Family Water Park – Located in North Richland Hills Texas, NRH20 Family Water Park has thrills and spills for all ages. A beautiful looking park with exciting rides. If you are headed to this area, it is a must see.
Hawaiian Falls, North Garland – While it may not be as large as some of the other water parks in Texas, Hawaiian Falls in North Garland has all your normal water park activities. A cool theme and fun atmosphere make it a must see.
Hawaiian Falls, Mansfield – The Hawaiian Falls in Mansfield Texas is one of five in the state. Just looking at the different attractions here make me want to go. I must check out that Torpedo water slide. Find out more in the link above.
Hawaiian Falls, Roanoke – The kids will love the Mega Waterworld. Hawaiian Falls claims it is the largest water play structure in the world. I have no reason to doubt them. I am definitely planning a trip here for my two rug rats.
Hawaiian Falls, The Colony – I just love the Hawaiian theme of these water parks. They look perfectly done and really take me away to a tropical island. The Hawaiian Falls in The Colony, Texas has something for the whole family to enjoy. Find out more above.
Hawaiian Falls, Waco – The newest of the Hawaiian Falls brand, this one is located in Waco Texas. From the wave pool to the massive water slides, this park promises to be a good time for all. We will definitely keep you updated on information about this park.
Six Flags Hurricane Harbor, Arlington – Part of the nation wide Six Flags brand, this one is located in Arlington Texas. Here you get access to a water park and amusement park all in one. These parks make for a great destination get-a-way.
Splashtown, San Antonio – Boasting over 20 acres and 50 different attractions, Splashtown is sure to be a blast. This park has every type of water ride one could imagine. The competition is getting tough in San Antonio and this park is right up there with the big dogs.
Aquatica Sea World, San Antonio – Scheduled to open in May of 2012, Aquatica promises to be a destination water park. Coupled with the Sea World attractions, this park is a must see on any trip through Texas. Find more information in the link above.
Splashtown, Houston – From Tree House Island to the aptly named Stingray Racer, this water park offers something for people of all ages. Heading to the Houston area? Why not spend a fun filled day at Splashtown? Click the link above for more information.
Splash, Amarillo – While this isn't the largest water park in the world, "Splash" in Amarillo, Texas still offers a great amount of fun. From the wave pool to the water slides, a good time is without question.
Splashway Family Water Park – With a few water slides and lots of kiddie play area's, Splashway is definitely as the name suggests, a family water park. If you happen to be in the area of Sheridan, Texas then you need to check it out.
Wet 'N Wild, Anthony – Located in Anthony Texas, this water parks offers thrills for the adrenaline junkie in all of us. Don't worry the little one's are taken care of too. Click the link above for more information on this water park in Texas.
White Water Bay (Six Flags), San Antonio – Another one of the many Six Flag parks across this great country, White Water Bay in San Antonio is a great time. One low price for admission to a amusement and water park all in one. Can't beat that!
Indoor Water Parks in Texas
Great Wolf Lodge, Grapevine – If you have been reading our website you know we are huge fans of Great Wolf Lodge. This one, in Grapevine Texas is a doozie. With 80,000 square feet of indoor water fun it is sure to please everyone in your group. Make sure to click the link above to be taken to our full information page about this indoor water park.
Waterpark at the Villages – The water park at the Villages is a fantastic indoor water park. Just watch the video on our full information page and you will be ready to go. No matter what the weather is doing outside, you can have a blast in the water here.
We sincerely hope you found all the information you were looking for about Texas water parks. We strive to provide the most up to date and accurate information available.
If you have any questions at all, please email us using the "contact us" link here or at the top of any page.
As you can probably imagine, it is rather difficult to keep up with water parks all around the world. We sure could use some help.
If we have missed your local park or one you know about, please let us know by submitting a comment below.
What are you waiting for? Go get on a BIG water slide at one of the water parks in Texas!