Welcome to WPW's water parks in Ohio information page. As you can probably imagine, we are huge water park enthusiasts and nothing gets our heart racing like a state with an abundance of fantastic water parks.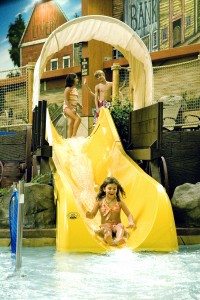 That is exactly what Ohio is. They have a ton of great water parks to chose from. These aren't your run of the mill parks either. They really are fantastic. I know you are probably thinking that Ohio doesn't have the best climate for fun water activities.
Well, they don't. Summer in this state is warm and terrific for outside activities including swimming, but winter is rather brutal. That is where indoor water parks come in to play. Ohio has at least seven fantastic indoor water wonderland's.
If you have been reading through this site at all, then you know we are huge fans of indoor water parks. No matter what time of year, it is always sunny and warm in these parks. Watery fun all year round, it doesn't get much better then that.
Below you will find information about all the Ohio water parks we found. At the beginning of each snippet of information, you will find a link to the full information page about that park.
Now why are you still listening to me blab? The parks are below.
Outdoor Water Parks in Ohio
Wildwater Kingdom, Aurora – No matter the type of person you are, you are bound to find something of enjoyment at Wildwater Kingdom. They have everything from big water slides to a kiddie area for the little one. Make sure to check it out.
The Beach, Mason – Are you a thrill seeker? How about dropping five stories in three seconds. Does that sound fun to you? If it does, you will love The Beach and its water slide The Cliff. This water park is filled with fun attractions no matter what age you are. Do yourself a favor and check this park out.
Soak City, Sandusky – With a wave pool of 500,000 gallons, more then twelve water slides and two lazy rivers, Soak City has something for every age group. One of Sandusky Ohio's many water parks, Soak City is definitely not over shadowed. Take your family and have a great time. Check the link above for more information.
Soak City, Mason – Another Soak City water park, this one is located in Mason Ohio. Serving Cincinnati, King Island Soak City has done a lot of renovation and added new rides. If you are looking for a good time in the sun and water, check this park out.
Monsoon Lagoon – While there isn't a ton of information on this water park ( we will be digging more in to this) It still looks as though it offers a good bit of attractions both in and out of the water. As we get more information we will be updating this page and the full information page on this park.
Pioneer Waterland and Dry Fun Park – Located in Chardon Ohio, this water park offers fun both in and out of the water. From water slides to miniature golf, this park offers a little bit of everything. No matter what your personality is like, you will find something you enjoy.
Zoombezi Bay, Powell – Last but not least of our outdoor water parks in Ohio is Zoombezi Bay. I love the name of this park and the attractions. Just looking at the pictures of the slides of this park makes me want to put on my swimming suit. If you are in the area or headed to Powell Ohio, you must check it out.
Indoor Water Parks in Ohio
Kalahari Resort, Sandusky – Ohhh I am excited just thinking about it. The daddy of all indoor water parks in the United States. Seriously, 173,000 square foot of pure indoor water enjoyment. They have a wave pool of 12,000 square feet that is as big as some whole indoor parks. DO NOT MISS this water park. Check the link above.
Fort Rapids, Columbus – Not to be out done by the park above, Fort Rapids in Columbus Ohio is a sixty thousand square foot indoor water park. Offering everything from water slides to kiddie play areas, Fort Rapids has something for everyone. Make sure to read our full information page.
Great Wolf Lodge, Mason – As you probably already know, we are huge fan's of the Great Wolf Lodge. They offer a terrific family atmosphere and fun. From the water slides to the bed time stories, these get a ways offer something for the whole family. Check out this Mason Ohio location.
Great Wolf Lodge, Sandusky – If you are like me and have kids ranging from twelve to two, you need diversity in your water park. Great Wolf Lodge offers just that. Not only in the water park but the whole resort. Out of the water I can go to story time with my daughter while my son plays magiquest. Truly something for the whole family.
Castaway Bay – Another one of Sandusky Ohio's many indoor water parks, Castaway Bay offers a unique guest experience. This park is set in a tropical island that offers thrilling water slides for the older kids and zero entry play lands for the younger. Check out Castaway Bay above.
Coco Key, Cincinnati – It seems like Coco Key water resorts are popping up all over the country. This is a good thing. This Coco Key is located in Cincinnati, OH. It offers something for the whole family at a reasonable price. If you are in this area, check out our "Key" information in the link above.
Rain Water Park, Sandusky – What a cool name for a water park. It is so fitting because it is a indoor water park. There are many parks in Sandusky Ohio to chose from. Do your research on this page to find which one best suits you and your group.
We strive to provide the most accurate and up to date information about water parks from all over the world including water parks in Ohio. If you have any questions or concerns, please feel free to email us using the "contact us" link here or at the top of each page.
As you can probably imagine, it is rather difficult to keep up with water parks all around the world. We do our best but sometimes we miss things. If we have happened to miss your local water park, or one you know about, please help us out and post a comment below.
Now why aren't you on one of these parks water slides?