Looking for information on water parks in New York? Congratulations, you have come to the right place. Water Parks World has you best information about these water wonder lands from all over the globe.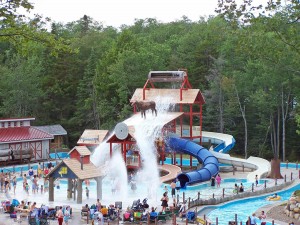 Ah, what can we say about New York? This is one of our most populated states and one of the biggest destinations for people to visit from all over the globe. If you haven't been to this great state you are really missing out. It's not just about New York City though.
Many times the big city tends to over shadow the rest of this state. In fact, this is some beautiful country and in the summer the weather is perfect for outdoor water parks. In the winter, well that is the exact reason for the indoor parks.
These indoor water parks allow you to have fun in the water no matter what time of year it is and, New York has some good ones. Chill in a wave pool and watch the snow outside.
Enough of me blabbing, What you came for is just below. Make sure to click on the link at the beginning of each description. This will take you to the parks full information page.
Outdoor Water Parks in New York
Splash Down Beach, Fishkill – While this isn't the biggest park in the world, Splash Down offers a terrific amount of activities for everyone. The kids will love the Bob the Builder Splash Works and the older kids ( parents included ) will love the selection of water slides and other attractions.
Thunder Island, Fulton – Another smaller park, Thunder Island in Fulton New York still offers plenty of activities to make it a good time. With a few water slides and a lazy river for the little ones, this place also has miniature golf and other out of water activities.
Enchanted Forest Water Safari – With over 49 rides and slides, Enchanted Forest Water Safari is one of the larger water parks around. Located in Old Forge, New York this park is guaranteed to be a blast. The have over thirty heated water rides. How cool is that?
Splish Splash, Long Island – From the lazy river to the Giant Twister water slide, Splish Splash is guaranteed to be a rocking good time. This park has something for everyone. Check the link above for more information.
Zoom Flume – Touting itself as New York's number one family water park, Zoom Flume which is located in East Durham, promises to offer hours upon hours of great family water fun. Click the link above for more information.
Raging River Water Park, Rochester – Part of the Sea breeze amusement park, the water park area called Raging Rivers offers about seven distinct water attractions. This, coupled with the theme park area could make for one heck of a day out with the family.
Roseland Water Park – With a few water slides, a wave pool and a giant tip bucket area, Roseland Water Park may not be the biggest park around, but it is sure to be a good time. Make sure to check out our full page for all the information.
Martins Family Adventure, Grand Island – This is a amusement park and water park rolled all in to one. One minute you can be relaxing in a lazy river and the next be drying off on a roller coaster. Check it out in the link above.
Water Slide World – Located in Lake George New York, Water Slide World is what its name suggests and more. This place has some amazing looking slides and I just can't wait to get there and check it out. Maybe next summer.
Indoor Water Parks in New York
Great Escape Lodge and Indoor Water Park – The Great Escape Lodge in Queensbury, NY. Part of the six flags community, this lodge boasts a 38,000 square foot indoor water wonder land. The place looks amazing and you need to check it out. Click the link above.
Aquazonia – There isn't a whole lot of information on this indoor water park yet. It looks like it is currently under development. Keep checking this page for the latest information.
Great Peak Mountain Resort – Located in Cortland New York, Great Peak Mountain Resort is a ski lodge and indoor water park combined. The water park part is called Cascades. If you are a skier and water lover, this could be close to heaven for you.
Big Splash Indoor Water Park – Part of the Rocking Horse Ranch lodge, Big Splash Water Park has water slides, dumping buckets and play area's for kids. Family fun in the water, does it get much better then this? Check the link above.
We hope you found everything you were looking for about New York water parks. We strive to provide the most accurate and up to date information. If you have any questions or concerns, please feel free to email us using the "contact us" link here or at the top of each page.
He at WPW we are perfect! OK  not really. We try our best but as you can imagine, it is rather difficult to keep up with all the water parks in the United States. If we have missed your local park or one you know about, please help us out by leaving a comment below.
Now get off the computer and get your buns on a water slide at one of the water parks in New York!