Welcome to the water parks in Minnesota page from WPW. We are huge fan's of water parks of all kinds. I love it that no matter the weather in any location, no matter the time of year, you can find a place that is warm and full of water.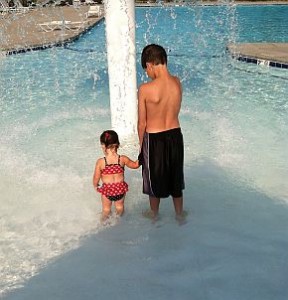 My original thoughts, when getting in to the water park industry was that the northern part of the United States would be a barren waste land in the terms of water parks. Boy was I ever wrong. Minnesota is loaded.
While it may not have the amount of outdoor water parks that some of the southern states have, they more then make up for it in the way of the indoor version. With close to a dozen indoor water parks, Minnesota has something for everyone.
Indoor and Outdoor parks offer similar rides and attractions just in a different scale. There is nothing quite like being inside, cruising down a water slide as it is snowing outside.
Below you are going to find information on water parks in Minnesota. At the beginning of each description is a link to the full information page about that park.
Hey skippy, get to checking out those water parks.
Outdoor Water Parks in Minnesota
Bunker Beach – Bunker Beach water park is located Coon Rapids, MN. This park offers all your regular amenities like a wave pool, lazy river, water slides and more. It would definitely be a great destination for a day out with the family. Find out more above.
Cascade Bay – This park, located in Eagan, MN is a community park. Don't let this distract you as there are plenty of fun things to do here. Only a few minutes south of the Mall of America, this park would be a easy stop for any shopper.
Soak City – Soak City is part of the Valley Fair amusement park complex. This park, located in Shakopee, MN has water slides, wave pool and plenty of area for the young ones to play in the water. Find out about this complex above.
Indoor Water Parks in Minnesota
The Venetian – While the Venetian indoor water park might not be the biggest one in the world, it has a very cool atmosphere. Both young and old kids can have a fun filled day of water playing here. Don't miss out on this great water park.
Water Park of America – Boasting Minnesota's only flowrider, Water Park of America which is attached to the Radison hotel, is located in Bloomington, MN. This large indoor water park is a terrific destination for a day of fun. Find more above.
Grand Rios Indoor Water Park – Can you believe I actually stayed here and didn't get a chance to go to the park. I was on business and didn't have time. Anyway enough of my sob story.
The Grand Rios is located in Brooklyn Park MN, and is just minutes outside of Minneapolis. This indoor water wonder land has plenty to offer in the way of family fun. Don't take my word for it, check out the pictures on our full information page.
Big Splash at Arrowhead Resort – Located in Alexandria, MN Big Splash is part of the Arrowhead Resort. This beautiful place offers a 38,000 square foot indoor water park that is sure to please even the grumpiest in your group.
Rapid River Lodge and Waterpark – What a cool name for a water park. The Rapid River Lodge isn't a huge facility but it sure looks fun. There are plenty of attractions here to keep the kids happy for a whole day. Find out more on our full information page.
Three Bear Lodge Water Park – Like Rapid River Lodge, Three Bear lodge is located in Baxter, MN. This might not be a destination water park, but if you are in the area, it could be a cool place to stay for your family.
Edgewater Resort and Waterpark – Located in Duluth Minnesota, the Edgewater Resort is a very cool themed indoor water park. The Tiki style will keep you entertained as you slip and slide your way down any of their water slides. Find more about this park above.
Paul Bunyan Water Park – Paul Bunyan and the Blue Ox, what a cool theme for Minnesota and a water park. This park is located in the Lodge at Brainerd Lakes. Take a look at our full information page to see if it is for you.
Waterpark At The Depot – From the three story water slide to the train spray playland, Waterpark at the Depot has something to offer for all kids, young or old. An 15,000 square foot indoor park looks to be a good time. Check it out above.
Seven Clans Casino and Waterpark – Want to do a little gambling while the kids have a blast in a 40,000 square foot indoor water park? Seven Clans Casino and Thief River Falls water park could just be the place for you. Find out more in our link above.
We sincerely hope that you found all the information you were looking for about Minnesota water parks. If you have any questions or comments, please do not hesitate to email us through the "contact us" link here or at the top of any page.
As you might imagine, it is rather difficult to keep up with every water park in the United States. We sure could use your help. If you know of a water park we have missed, please let us know by submitting a comment below.
What are you waiting for? Make a reservation and go enjoy one of these fabulous water parks in Minnesota.