Welcome to WPW's water parks in Michigan information page. I must admit that when I first got in to the water park business, I expected the southern states of the U.S. to have the largest amount of parks.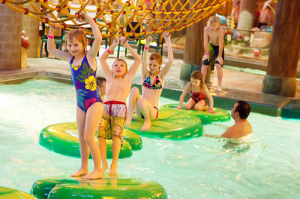 Man was I wrong. With states like Michigan and Wisconsin having a tremendous amount of parks per capita. I was actually disappointed with a lot of the southern states for not taking advantage of their fantastic weather.
What I wasn't considering at that time was, the tremendous growth of indoor water parks around our great nation. Michigan has a ton of these indoor water parks and each one of them are fabulous in their own rights.
I am now planning a trip for next month to this great northern state. I must check out all of these wonderful places for myself. I just wouldn't be able to sleep at night if I didn't
I know, you are probably tired of listening to me blab. Ok, below you will find all the Michigan water parks we found. At the beginning of the snippet of park information, you will find a link to the full detail page about that park.
Ok, now get in there and find yourself a fabulous weekend retreat.
Outdoor Water Parks in Michigan
Michigan's Adventure – This park is a fantastic amusement and water park combination. Located in Muskegon Michigan, it offers something for people of every age. One minute you can be slipping and sliding down a water slide and the next you can be hitting up trills on a roller coaster. Check this one out.
Thunder Falls Family Water Park – This outdoor family water park is located in Mackinaw City, Michigan. This was rated as Michigan's best water park just a few short years ago. Offering attractions like lots of water slides and a fantastic area for children, it is easy to see why. Click the link above to find out more.
Rolling Hills, Washtenaw County – This park is a municipal water park but don't let this distract you. Rolling Hills is a very nice water park with a lot of different attractions. They have a wave pool, water slides, lazy river and more. If you happen to be in Washtenaw County, stop in and check this one out.
Indoor Water Parks in Michigan –
Splash Universe, Dundee – Splash Universe just sounds cool, doesn't it. Well it is. They have a 25,000 square foot indoor water park with everything you would expect. From the water slides to the little kids area, everyone in your family is likely to have a great time. Check it out!
Avalanche Bay – Set in a Austrian winter wonder land, Avalanche Bay is one of the best and coolest (pun intended) indoor water parks in Michigan. There are so many different things to do here. One of the coolest, to me, is the Rip Zone. This is just something you don't find in every water park. The link above will give you more information.
Zehnders – Zehnders Splash Village located in Frankenmuth Michigan is a fantastic water park destination. They offer a 30,000 square foot indoor water park that offers thrills and spills. If you click on the link above, you will be taken to our full information page about this park.
Surfari Joe's – Catch the play on words here? What a cool name. Surfari Joe's in Watervliet Michigan is a fun place to hang out and get wet. While it may not be as large as some of these other parks, it still offers a lot of fun and entertainment for all ages.
Double JJ Resort – The Double JJ Ranch and Golf Resort is a terrific destination for any family. It is located in Rothbury Michigan. While the water park is great in its own right, there is also golf and other activities to enjoy. Make sure to click over to our full information page to find out more about this great place.
Great Wolf Lodge, Traverse City – If you have been reading any of this website then you know I am very big on the Great Wolf Lodge indoor water parks. They just offer a superb family atmosphere, the staff is always friendly and the water attractions are terrific. Click above to find more information about the Great Wolf Lodge, Traverse City Michigan location.
At Water Parks World, we strive to provide the most accurate and up to date information about each and every park. If you have any questions or comments for us, please feel free to email us using the "contact us" link here or at the top of each and every page.
At WPW we are about as close to perfect as they come (not really), but sometimes we do miss things. If you know of water parks in Michigan that we left out, please let us know about it by leaving a comment below.
So, what are you waiting for? Go get on a water slide at one of the water parks in Michigan.