Looking for water parks in Louisiana? Well, you have come to the right place. WPW researches and provides information about water parks from all across the country. If it involves water and fun, we are there.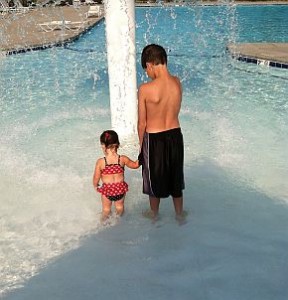 Louisiana has a fantastic climate and atmosphere for fun in the sun and water. Unfortunately, there isn't a whole lot to chose from. Maybe it's the location and all the other things to do in the state, but it sure seems like a shame.
The parks we did find seem to be fantastic. Even though they don't have much competition, they still go above and beyond to provide a fantastic experience and keep their customers coming back.
Our park information pages provide info on the park plus surrounding activities in case you are planning to make a week of it. We also show pricing and rules and regulations.
Below you will find the water parks in Louisiana, at the beginning of each snippet of information is a link that will take you to the full information page for that park.
Well, what are you waiting for? Find your Louisiana water fun now.
Outdoor Water Parks in Louisiana
Splash Kingdom Water Town – This water park has been newly renovated and is in fantastic shape. This park, located in Shreveport, LA is a park that you could spend a couple days at having fun. They have all sorts of water slides and a wave pool. The fun atmosphere will definitely keep the little ones entertained. Read more in our full page write up, link above.
Blue Bayou – The Blue Bayou water park, located in Baton Rouge Louisiana is one of the big boys. They tout having both the worlds largest water racers and tornado slide. Now that is a big deal and makes it a must visit for me. You must read our full information on this park.
Spar Water Park – This is a municipal water park in Sulphur Louisiana. Not something you would plan a trip around, but if you happen to be in the area, spend a fun filled day in the sun at Spar Water Park. It has several attractions including a kiddie area and water slides.
Indoor Water Parks in Louisiana
If you have been reading and of our other states pages, you know we are huge fans of indoor water parks. Unfortunately, we were not able to find any in this state. Yes this is unfortunate but it's never to late. I'm looking at you Great Wolf Lodge!
Here at WPW we strive to provide the most up to date and accurate information about water parks from all across the country. If you have any questions or comments for us, please feel free to email us using the "contact us" link here or at the top of this page.
As you probably know, it is rather difficult to keep up to date with every water park in the United States. We sometimes make mistakes, shocking huh. If we have missed your local water park or one you know of, please feel free to let us know by posting a comment below.
Now get out there and start having some fun in the sun at one of the water parks in Louisiana!