Welcome to WPW's water parks in Kentucky page. Here we will give you all the latest information relating to this great states water parks and even go in to details about each park on their dedicated page.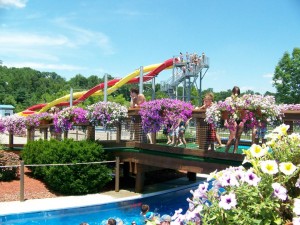 Kentucky is a fantastic place to visit. If you live there then you already know this, but if you have never been, go check it out. They have a variety of both indoor water parks and outdoor. Something for everyone.
With beautiful scenery all around you, no guys im not talking about the ladies, and the warm summer weather, why wouldn't you visit one of their many outdoor water wonder lands. This is just plain o'l family fun.
Unfortunately one of their biggest amusement and water parks, owned by Six Flags, closed in 2010. Kentucky still has plenty to offer. Even if you don't like the water, shame on you, there are still plenty of things to do in and around these parks.
Below you will find a snippet of information about each water park in Kentucky and a direct link to our information page about it.
Now.. get to it and find yourself a fun water park to visit.
Outdoor Water Parks in Kentucky
Kentucky Splash Water Park – This outdoor water park is located in Williamsburg, Kentucky. Boasting a 18,000 square foot wave pool and plenty of water slides to go around, this is a great park for any thrill seeker. Also, the kiddie play area is fantastic for the little ones. Find out more about Kentucky Splash through the link above.
Splash Lagoon – Looking for a fun, watery day out in the Bowling Green, KY area? Check out Splash Lagoon. This is a family friendly water park with plenty of attractions for people of all ages. The little ones can hang out in the Lotta Watta Island while the older folks can hit any of the water slides or the wave pool. Definitely check out or full page on this park.
Venture River – Being the only water park in western Kentuck, Venture River is a fun destination. This water park is loaded with attractions and fun things for the whole family. Check out their wave pool. There is a cool steamboat in the back ground. Read more on our full information page.
Somer Splash – A tightly packed water park in Somerset, KY this park is a great family destination. It is big enough to have all the rides one would want, but small enough to keep a eye on all the kids. Get there and check out the very cool bowl slide. Read our full info page to find out more about Somer Splash.
Indoor Water Parks in Kentucky
Pirates Bay, Comfort Inn – While this isn't a all out indoor water park like you would find with a Great Wolf Lodge or Coco Key, there is still fun to be had. I wouldn't plan a family outing here but if you are looking for a family hotel in Shepherdsville, KY this could be a good spot for you and the little ones. There is still plenty of water fun to be had here.
We sincerely hope you found the Kentucky water park information you were looking for. We strive to provide the most accurate and up to date information about water parks all across America. If you have any questions or comments for us, please email us through the "contact us" link here or at the top of each page.
As you can imagine, it is very difficult to keep up with every water park in the United States. If we missed one of the water parks in Kentucky, please let us know by leaving a comment below.
Now, stop listening to me blab and get out there and hit up a wave pool.