Looking for something fun to do? Try water parks in Iowa. They offer a good amount of unique water parks all over this great state. One would think water parks are mainly suited for the south.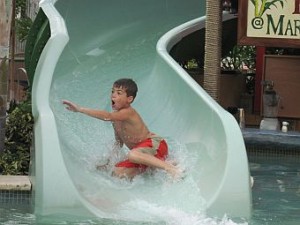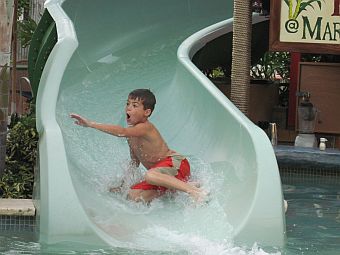 That isn't true at all. With the recent craze of indoor water parks, hotels all over the country are jumping on board. Iowa has a good volume of indoor and outdoor water parks alike. Give it a look you won't be disappointed.
Taking a family of four or more to a amusement or water park can be very expensive. At WPW we research every water park to help you make a good decision as far as amenities, rides and cost. We are with you all along the way.
Below you will find information on every water park we found in Iowa. At the beginning of the short description is a link to the full information page. Make sure to check out each page for more details.
Now, lets get it rolling!
Outdoor Water Parks in Iowa
The Beach, Ottumwa – The city of Ottumwa, IA has made a fantastic water park for it's citizens. While most community parks are lacking, this one has a lot to offer. They have water slides, wave pool, kiddie area and even a indoor lap pool. If you are going to be in this area, you must check this out.
Hucks Harbor – Hucks Harbor, located in Burlington Iowa is a hybrid water park. What I mean by this is, this park is both indoor and outdoor. There is plenty of fun to be had here, it is combined with a hotel and casino. Drop the kids at the pool and hit the slots. A world of fun for everyone.
Lost Island – Looking for a full tilt water park in Iowa? Here you go. Lost Island is located in Waterloo. How fitting for a town name and a water park. This park has everything we look for in a water playland. Slides, kids area, amenities and everything you could dream of. This is a park you can plan a day or weekend around. Check it out through the link above.
Indoor Water Parks in Iowa
Boji Splash Indoor Water Park – Boji Splash in the Bridges Bay Resort is a fun atmosphere for any family. Located in Arnold's Park Iowa, this whole area is a blast and very family friendly. You wont make a mistake by visiting this park or this area in general. I have been twice and plan on going back.
Grand Harbor Indoor Water Park – Ready to get wet and have some fun in the winter? Grand Harbor Water Park in Dubuque Iowa has just what you have been looking for. A full fledged indoor water park that offers rides and attractions for people of all ages. Be sure to read our full information page.
Kings Pointe – Another hybrid water park, Kings Pointe in Storm Lake Iowa offers fun both indoors and out. This park has a variety of slides and pools to chose from. They don't leave anyone out. Read the full information page to find out more.
Wasserbah Waterpark Resort – From the slide tower to the zero entry pool, everyone can have a great time at this indoor water park. Wasserbah Resort is located in Williamsburg, IA and offers a full hotel with fantastic rooms and a full indoor water park. Find out more above.
Find what you were looking for? We sincerely hope so. We go to great lengths to provide the most accurate and up to date information about every water park. If you have any questions please us the "contact us" link here or at the top of each page.
Have we missed something? We try our hardest to include every park we can find. Sometimes, we miss one. I know.. Shocking, right. If we have not included your water park in Iowa, please let us know by leaving a comment below.
Now get your buns out there and hit those water slides!