Welcome to our water parks in Illinois page. Here we let you know about all the indoor water parks and also the outdoor version in the great state of Illinois. We hope you find exactly what you are looking for.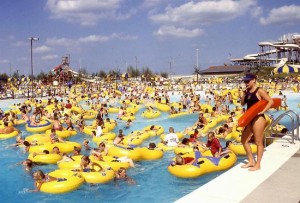 What is more fun the slipping and sliding down a water slide? Not much! Illinois offers a tremendous amount of water parks for you to chose from. They have something for everyones taste no matter what age.
In a climate like this state has, there are only a few months a year that outdoor water parks can be open. That is where the wonderful world of indoor water parks come in to play. These destinations are awesome and Illinois has a abundance.
Through this page we will help you navigate the treacherous water of the water park world for your vacation. You can read full write ups of each park to decide if it is the right one for you and your family.
Below you will find information on each water park in Illinois. Click on the link at the beginning of the description to be taken to the full information page about that water park.
Let the party begin….
Outdoor Water Parks in Illinois
Raging Waves – The Raging Waves water park located in Yorkville, IL is a fantastic destination for any group of water park enthusiasts. This park runs the gambit of things to do. From the crocodile mile to the Tasmanian twisters, this park has something for the whole family. Check out the link above for more info.
Magic Waters – This water park is located in Cherry Valley, IL. It may not be the biggest water park in the world, but what it lacks for in size, it makes up for in attitude. This is a fantastic park that is family friendly and offers great attractions. Find out more through the link above.
Raging Rivers – From the gigantic wave pool to the long body flumes, this water park offers something for just about everyone. Raging Rivers water park is located in Grafton, IL and is a very family friendly park. Check it out above.
Caribbean Water Adventure – Just as the name suggests, you will feel like you are in the Caribbean when you visit this water world. The family friendly environment takes everyone into a relaxed state of mind. Don't miss our full page of information above.
Six Flags Hurricane Harbor – Six Flags is a huge company that has water parks all across our great county. Hurricane Harbor is located in Chicago and offers a good amount of water rides for you to chose from. We go in to detail about this park through our dedicated page. Check it out above.
Cypress Cove Family Water Park – A family atmosphere water park with a water spray playground and body flumes to ride. This smaller water park could be a good destination for families looking for a fun day out.
Rainbow Falls, Elk Grove – Rainbow Falls in Elk Grove, IL is a great place to take the family and enjoy a day away from the hustle and bustle of every day life. Take the kids out, they will appreciate you for it, though they probably wont tell you.
Splash City, Collinsville – This is a family water park that might not have some of the thrilling slides as the larger parks, but Splash City in Collinsville, IL has a lot to offer in the way of family fun. If you are in the area, this is a great way to spend the day.
Indoor Water Parks in Illinois
Key Lime Cove – Have I said I love indoor water parks? Well I do! Ok.. blah blah enough about my feelings. Key Lime Cove is a fantastic water park that provides an excellent stay in the hotel and plenty of things to do outside of the water. We are focused mainly on the water aspect. Check out our full information page in the link above.
Coco Key, Rockford – Not to be out done by the park above, Coco Key in Rockford, IL is a 60,000 square foot facility. A huge place for you to enjoy all you water wonder needs. They offer all the traditional water slides and other amenities. From reading reviews, I guarantee you won't be disappointed with your stay here. Click the link above.
Mayan Adventure – What is cooler then a Mayan Adventure on water? Not much! The Mayan Adventure indoor water park is located in Elmhurst, IL. This fantastic facility offers a tremendous amount of indoor water fun for you and your family. Check it out above.
Grizzly Jacks – Combined with a amusement park, the Grizzly Jacks water park located in Utica, IL which is just over an hour from Chicago. This is a fantastic looking water and amusement park that your family will remember for years. We hope you check out our full page in the link above.
We sincerely hope you have found the information about water parks in Illinois you were looking for. If you have any questions or comments about anything on this site, please feel free to email us using the "contact us" link here or at the top of any page.
We strive to keep up to date on every water park in the United States. If we have missed your park or one you know about, please let us know by leaving a comment below.
Now get out there and ride some slides in Illinois!