When you think of this area, water parks in Idaho might not be the first thing that comes to your mind. This states is absolutely beautiful and has many fun outdoor adventures awaiting you and your family.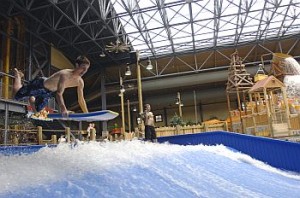 To my surprise, Idaho has quite a selection of water parks, both indoor and outdoor. I had thought, for such a densely populated state, there may only be one water park to chose from. How delighted I was to find the opposite.
Idaho has a couple indoor water parks and a few outdoor one's as well. These aren't rinky dink operations either. They are full fledged water parks with all the amenities you would come to expect from the big name parks.
Maybe you are planning a family vacation to Idaho or you already live there. Either way one of these parks will be a enjoyable way for you to spend a fun filled day in the sun or maybe even inside riding water slides.
Below you will find information about each water park we found in Idaho. If you click the link at the beginning of the description, you will be taken to our full page talking about that park.
Now let the fun begin….
Outdoor Water Parks in Idaho
Roaring Springs – Roaring Spring is located in Meridian Idaho. This park is a fantastic choice for any family or group of people looking for a fun filled day in the sun. They offer everything from your most thrilling water slide to Little splash mountain for the kids. This is a can't miss on your trip through this wonderful state.
Silverwood Theme Park – Silverwood Theme Park and Boulder Beach are a joint venture park. Here you can go from riding on a water slide one minute to drying off on a roller coaster the next. Moderately priced, this park is guaranteed enjoyment for the whole family. Read our about Silverwood page through the link above.
Indoor Water Parks in Idaho
Silver Mountain Resort – Silver Mountain Resort in Kellogg Idaho is this states largest indoor water park, but they don't stop there. There have plenty of outdoor activities to embellish in. From Skiing to Mountain biking you wont get bored at this resort. Check out more about this fabulous mountain resort water park by clicking the link above.
Raptor Reef – What is cooler then a Dinosaur themed water park? Not much! Raptor Reef is a indoor water park with a Dinosaur theme all around it. They have everything from water slides to a indoor wave pool. The kids will not be disappointed with their own section of this crazy place. Check it out, ill bet you will love it.
We sincerely hope you have found all the information you were looking for about Idaho water parks. We strive to provide the most accurate and up to date information about parks across the Unites States. If you have any questions or comments for us, use the "contact us" link to email us.
As you can probably imagine, It is a rather difficult task keeping up with all the water parks across the US. If we have missed your park or one you know about, please let us know by leaving us a comment below.
Now get out there and have a wild and whacky time on those water slides!