Water Parks in Hawaii – While planning your trip to the beautiful and lush state of Hawaii, probably one of the last things on your mind is, what water park will we attend? This is understandable.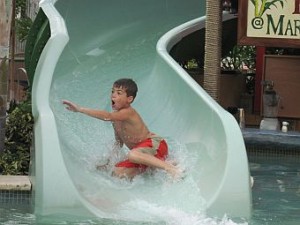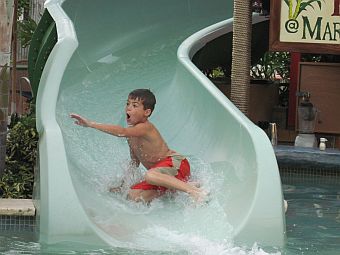 After all, Hawaii is the place of beautiful beaches and wonderful blue water. You could spend your whole vacation just relaxing on the beach and playing in the waves. That's fun, but if you are staying a week or more, do you really want to do this the whole time?
Well evidently this is exactly what most people who visit Hawaii want to do. This is a shame, a water park is a fantastic way to relax and break up the day to day routine of any vacation. It is relaxing and fun at the same time.
Unfortunately, Hawaii only has one water park for you to enjoy. If you aren't visiting the area of Kapolei or planning a trip there, you are out of luck as far as Hawaii water parks go.
There is only one water park located in the great state of Hawaii. The water park junkie I am, this really disappointed me. I was expecting so much more from a state with such terrific weather for my love of water parks.
Anyway, enough of my depression and back to the subject. The fact is there is still one fantastic park you can visit.
Below you will find some information about this park. Click on the link at the beginning and this will take you to our full information page about it.
Outdoor Water Parks in Hawaii
Wet N Wild Hawaii – Wet N Wild is a national chain of water parks that tends to offer a great experience for their visitor. This park is no different. The Hawaiian version is a beautiful park with a abundance of activities for everyone.
They have something for people of every age group. The little ones will have fun in the kiddies area and the older group members can slide away until their heart is content. Check the link above for more information.
Indoor Water Parks in Hawaii
Not surprisingly, we were unable to find any indoor water parks. Even though I absolutely love these, why would they need to build one in a state with such terrific weather for outdoor activity. Still, you would think a indoor water park would do great here.
At WPW we strive to provide the most accurate and up to date information on all water parks in the United States. If you have any questions or comments for us, please email us through the "
contact us
" link here or at the top of this page.
We have been know to sometimes miss water parks. If this is the case and you know of a water park in Hawaii that we don't have on out list, please let us know by leaving a comment below.
Now get out there and get your tan on at one of the water parks in Hawaii. Oh that's right. There is only one.