There is nothing I like better then water parks in Georgia, well maybe Georgia peaches. This is a fun filled state with a great climate for water parks of all types. The season starts early and continues late.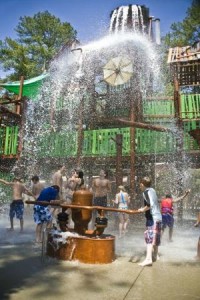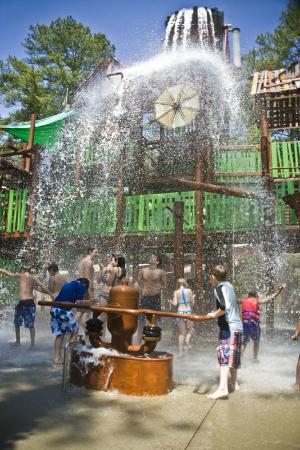 While this state didn't have as many parks as I expected for a state of this size and population, what I did find was most of the parks they do have are terrific and offer a new and innovative experience.
When you head out to a Georgia water park, make sure to take plenty of sun screen with you. The sun gets pretty hot down there in the south and you don't want to ruin a vacation getting burned on the first day.
Georgia offers at least six water parks to chose from. All of these parks can be found below and if we missed anything at all, please let us know.
Below are the water parks we found in Georgia. Click on the link at the beginning of each parks description to be taken to our full page about this attraction.
Outdoor Water Parks in Georgia
Six Flags White Water – This terrific water park is located in Atlanta, Georgia. Six Flags White Water offers a tremendous amount of rides and attractions. As you can expect from a national chain they are alway changing and offering new rides. Check it out.
Splash in the Boro – Splash Boro in Stateboro, GA offers a tremendous amount of water activities. Oh, did I mention that the pools are open year round? That is awesome. Any time of the year you can get your feet wet and get your swim on. Check it out, you don't want to miss this one.
Splash Island, Valdosta – Included with the admission to the Wild Adventures Theme park, Splash Island has all the traditional water park attractions and then some. This is a tremendous value for anyone interested in roller coaster and water slides.
Summer Waves – Jekyll Islands Summer Waves water park is sure to offer thrills for people of all ages. The young ones will enjoy the splash zone while the older folk will get their thrill on rides like Pirate's passage. If you are heading to Jekyll Island, be sure to check out this water park.
Chattahoochee Rapids Beach – Located at the Lake Lanier Island Resort in Georgia, this water park offers many of the traditional thrills. What stands out here is all the other activities you can enjoy while out of the water.
Helen's Water Park – Now this is a different style of water park. Everything is inter twined into a smaller area, you don't have to walk miles to the next ride. While it may not be as big as some others, there are still plenty of unique attractions for you to chose from.
The Beach at Clayton County International Park – This isn't a typical water park. This is actually a beach with water toys to play on out in the water. If you are looking for a traditional water park, you may want to look at some of the other options in this state.
Indoor Water Parks in Georgia
These days, indoor water parks have become all the craze in the northern states. Unfortunately they haven't quite made their way south yet. We love indoor water parks and would like to see one in Georgia. If we have missed one, please let us know.
We sincerely hope you have found what you were looking for about Georgia water parks. We strive to provide the best and most accurate information on these parks. If you have any questions feel free to email us through the "
contact us
" link.
As you probably know, trying to keep up with every water park in the United States is a difficult task. If we have missed your local park or one you know about, please let us know by leaving a comment below.