Fun, sun, sand and water parks in Florida. Can it get any better then this? Not really! In addition to the miles and miles of Florida beaches, they also offer many tremendous water parks to chose from. You can't swing a damp stick without hitting one.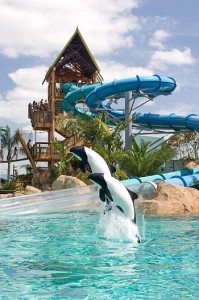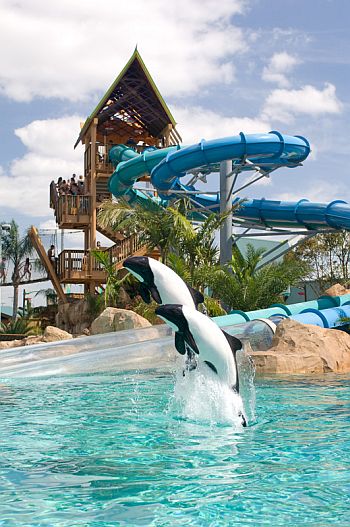 Many people may think, well why pay for a water park when I can just go to the ocean? Water parks offer so much in the way of fun that you just can't get from lounging on the beach. Just ask a child if they would rather go to the beach or a water park. There is your answer.
Florida offers over fifteen different water parks to chose from. No matter where you are heading, or live in this state, there is a terrific park for you to chose from. But, which one is the best?
From the expansive Disney world resorts to the indoor water park of Coco key, there is a wonderful water park for people of any age. No matter what kind of person you are, you will find something to enjoy.
Below you will find information all water parks in Florida. Click the link at the beginning of that parks description and you will be taken to our information page about that park.
Now lets get started…
Outdoor Water Parks in Florida
Adventure Island, Tampa – From the lush green scenery to Palm trees all over the place, Adventure Island makes you feel like you are in the Florida keys. This park, by Bush Gardens, offers many rides and activities for you to enjoy. If you are a water slide enthusiast, you will love this park. Check the link above for more info.
Aquatica, Orlando – Oh, what a fantastic water park from the good folks at Sea World. As you can imagine they have brought their Dolphin exhibit into the theme of this park. You will not be disappointed as this park has many different attractions for people of all ages. Don't miss this one. The kids will love it.
Big Kahuna, Destin – While Big Kahunas in Destin Florida may not be the biggest in the state, they still offer plenty of attractions in and out of the water. If you are in the Destin area, this could be a great time to spend a day away from the beach.
Daytona Lagoon – Nestled in the middle of Daytona Beach, Daytona Lagoon offers a tremendous amount of water activities for you to chose from. They have a wave pool, lazy river and plenty of water slides. Catch a view of the Ocean from the top of a slide.
Disney Blizzard Beach – When you think Disney you think of the most extravagant and big parks available. Disney stepped up to the plate again and hit a home run. From the very very cool Summit Plummet to the Tike Peak, there is something here for all ages and everyone will have a blast. Check the link above for more information.
Disney's Typhoon Lagoon – Disney's Typhoon Lagoon is located in the Walt Disney World resort. Like Blizzard Beach, this park offers a tremendous amount of rides, all done in a pirate theme. Fun for all ages this park even offers surf lessons. How cool is that? This is a must visit if you are in the area.
Rapids Water Park – Rapids Water Park is located in West Palm Beach Florida. This is a expansive park that has many thrilling rides. One of my favorites is the Black Thunder. You must check out this ride to appreciate it. Look at all of this parks rides in the link above.
Shipwreck Island, Jacksonville – Located in Jacksonville Florida, Shipwreck Island is a smaller water park with a few water attractions. Not to be out done, they have plenty of out of the water activities to keep you and your family busy. Look and see what you think.
Shipwreck Island, Panama City Beach – The Panama City version of Shipwreck Island is more expansive and more of a original water park. They have rides for people of all ages. A true family atmosphere, you will be sure to have a fun day in the water. The children will love their own play area.
Sunsplash Family Water Park – Located in Cape Coral FL, Sunsplash Family Water Park offers exactly what the name suggests. It is a fun family atmosphere with plenty of attractions and rides that are guaranteed to keep the children happy. What keeps parents happy? Happy children! Check it out.
Wet N Wild, Orlando – Orlando has a bunch of water parks but Wet N Wild really stands out from the crowd. The offer a great amount of rides from single person slides to multi person raft rides. Wet N Wild has really thought about the young ones here. There kids area is superb and they are sure to love it. Don't miss this water park in Florida.
Wild Waters, Silver Springs – Located just east of Ocala Florida, Wild Water water park is a great place to spend the day soaking in the sun. One of the coolest rides, the Alligator Ambush is sure to be a hit with many in your group. Check out this park and make time to hit the slides.
Sams Surf City, Pensacola – Last but not least is Sam's Surf City in Pensacola, FL. Sam's has everything you would expect from a water park. Slides, lazy river, pools and more. I really doubt you would be disappointed with your trip to this water park.
Indoor Water Parks in Florida
Coco Key, Orlando – If you have been reading any of our other water parks pages, you are sure to know that we at WPW are huge fans of indoor water parks. Coco Key is a hotel and water park all in one. They offer both indoor and outdoor water areas. No matter if it is raining or snowing ( right, snow in Florida ) you will still be able to enjoy a fun filled day of swimming. Find out more from our Coco Key, Orlando page.
We sincerely hope you have found the Florida water parks information you were looking for. At WPW we strive to provide the most accurate and up to date information about all types of water parks.
If you have any questions or comments for us, please feel free to email us through the "contact us" link here, or at the top of this page.
As you can probably imagine, it is a rather large task to keep up to date with all the water parks in America. If we happened to miss your park or one you know about, please let us know below in the comments.
Have fun in the Florida water park you chose!