When you think of fun in the sun, water parks in Delaware might not be the first thing that comes to mind. We suggest you take a look though. This fantastic state has a lot to offer in the way of watery fun.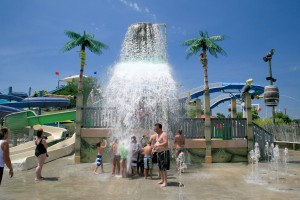 Water parks can be very expensive, especially for a family of four or more. We suggest you take a hard look at all the parks in Delaware to make sure you are getting the best bang for your buck.
The things you might want to consider are the ages of people in your group. If you have young children, make sure the park has a child's play area. If you have teenagers in the group make sure they have plenty of water slides to keep them busy.
In Delaware you will find water parks that run that gambit from the city park to the full on, water slide heaven.
Below you will find information on all the water parks we found in Delaware. Click the link at the beginning of the description to be taken to our page on this park.
Outdoor Water Parks
Jungle Jims – One of the best water parks in the area, Jungle Jim's in Rehoboth Beach has a lot to offer in the way of fun water activities. Slides, wave pools and a lazy river will keep you thrilled for hours. They also have other fun activities like bumper boats. Check the link above for more information.
Killens Pond State Park – This is a state water park that offers plenty of water fun for a day out with the family. If you are close to the area of Felton, DE this could be a good opportunity for you to cool off from the heat of the day.
Thunder Lagoon – If you are in Fenwick Island, DE or heading that way on vacation, check out the Thunder Lagoon water park at Viking golf amusements. They have slides, pools and a four hundred foot lazy river. Check the link above for more info.
White Water Mountain – While White Water Mountain in Reahoboth Beach DE might not be the biggest water park in the world, they have plenty to offer in a fun, family focused atmosphere. Two pools and plenty of water slides will definitely keep the kids entertained.
Indoor Water Parks in Delaware
Unfortunately we weren't able to find any indoor water parks in this state. I found this a little hard to believe as the climate would be so fitting for it. Maybe we missed something, we have been known to do that. If so, please let us know.
We sincerely hope you found all the information you were looking for about water parks in Delaware. If you have any questions of comments for us, please feel free to email us through the "contact us link" here or above.