While the climate in this area isn't the best for water parks in Connecticut, there are still a couple of months a year that the weather is just about perfect for fun, sun filled days of lounging by a pool or ripping down a water slide.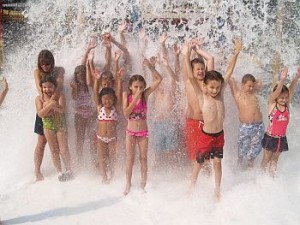 The rest of the year besides June, July and August you can still get your water thrills through a indoor water park.
Indoor water parks have become all the rage lately. You know why? Because the are FUN all year round. Connecticut is the perfect place for this, as it gets rather cold in the winter and stays that way for months.
If you live in this great state then you are probably well aware of what you have to offer in the way of water parks. To those of you planning a vacation to this area, check below for all your water activity needs.
Below are the water parks, both indoor and outdoor, that we have found in Connecticut. Click the link at the start of the description to be taken to our information page about this park.
Outdoor Water Parks in Connecticut
Lake Compounce – Like Elitch Gardens in Colorado, Lake Compounce is a fantastic amusement park that combines with a water park. Here you can slip and slide your way down the water slides, take a dip in the pools and then dry yourself off on a roller coaster. How cool is that? Find out more information about this park using the link above.
Quassy Water Park – Always wanted to enjoy a water park alongside a beautiful lake? Quassy water park is here to fill this need. They have an abundance of your traditional water rides to enjoy, but at the same time they have a lakeside beach you can hang out and tan yourself on. Don't forget the sun block.
Indoor Water Parks in Connecticut
Coco Key Waterbury– As you have probably figured out by now, here at WPW we are huge fans of indoor water parks. Coco Key in Waterbury is a hotel, convention center and water park all in one. Going to Connecticut on business? Bring the family along and let the kids spend a fun filled day at the water park while you go to a meeting. They will love you for it. Check the link above for more information.
At Water Parks World we strive to provide the most accurate and up to date information about fun filled water parks all over the United States. We sincerely hope you have found the information you were looking for about water parks in Connecticut.
If you have any questions or comments about our information, please feel free to email us using the "contact us link" here or at the top of this page.
As you can imagine, it is quite difficult keeping up with all the water parks in the United States. If we have happened to miss your park, or one you know about, please let us know by leaving a comment below.
Don't forget to sign up for our WPW newsletter, we will email you information and park deals.