When you think about this state, water parks in Colorado might not be the first thing on your mind. With the stunning views of the Rocky Mountains and their fantastic skiing in the winter, Colorado is thought of more as a winter destination.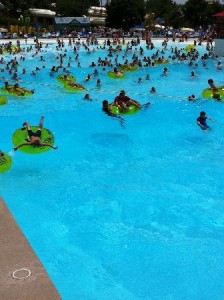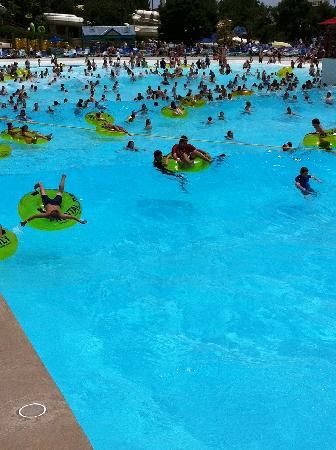 There are so many fun summer things to do in Colorado, visiting one of their many water parks is a great addition to any plans. What could be better then going down a water slide when you are already at a elevation of five thousand feet?
In June, July and August the temperature is perfect for any water park enthusiast. Take a break from your white water rapids riding and check out one of the Colorado water parks.
Below you will find information on all the water parks in Colorado we could find. Click on the links at the beginning of the description to find out more about this park.
Outdoor water parks
Island Kingdom, Denver – Island Kingdom is actually attached to the Elitch Gardens theme park. You get a two for the price of one deal here. One minute you can be riding a roller coaster overlooking Denver, the next you can be heading down one of their several water slide. We focus on the water park side, check it out above.
Water World, Denver – This is a full tilt water park offering everything you can imagine. Being on of the larger water parks, Water World ( we like the name ) can offer something for visitors of all ages. Taking grandma with you? Don't worry, she will have something to do. Check the link above for more information.
Pirates Cove, Englewood – Pirates Cove is a small water park brought to you by the good folks of Englewood Colorado. While it may not offer everything a full park like Water World does, it is still great for a fun watery day with the family.
The Splash, Golden – The Splash is located in Golden Colorado. Like Pirates Cove, this is more of a community pool that has water slides and fun water activities. Fun for a day out with the family if you happen to be in the area.
Indoor Water Parks
Glenwood Hot Springs – Ok I am pushing it here to make a indoor water park in Colorado. While there aren't any traditional parks like a Great Wolf Lodge, there is the Glenwood Hot Springs.
These naturally heated springs are actually outside but warm enough to use year round. They are attached to a fantastic lodge. This is a must visit if you are heading to Hot Springs. I know, a bit of trickery, but I really want a indoor water park in this state.
We hope you have found all the information you are looking for about water parks in Colorado. If you have any questions or comments for us at WPW, please email us using the "contact us" link here or at the top of the page.
As you can imagine, it is difficult to keep up with all the water parks in the United States. If we have missed one you know about in Colorado, please let us know by leaving a comment below.