Don't forget water parks in California. We all know about the beautiful beaches and sunny weather in California. I remember being a kid visiting this wonderful state and asking to go to a water park. My fathers response was why go to a water park when we have "Oceans of Fun" here.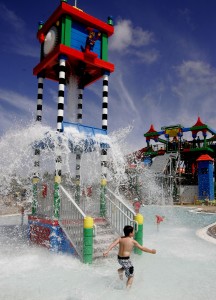 There is a large amount of water parks in this state. Given, it is one of the largest states in the Union and has some of the best weather. Still, it seems almost as though these parks are stacked upon one another.
This creates a atmosphere for strong water park competition in California. Each one of these parks trying to out do one another. This is very good for the fans of the water parks.
Below is a brief explanation of each water park in California. Along with the information is a link to a page with more detailed information on each one. Make sure to check them all out.
Outdoor Water Parks in California
Island Water Park – Island Water Park is located in Fresno California. While it may not be the biggest or the best water park, it has plenty to offer at a terrific price. This park has many great slides and pools to chose from. Check the link above for the full page.
Ravine Water Park – This water park is located in Paso Robles California. The park has all your normal water slides, wave pool and other amenities. There is plenty to do here and you will definitely have a fun filled day at the Ravine water park. Check it out.
Knotts Soak City Buena Park – Knotts soak city is a staple these days in California. The water parks offer a tremendous amount of attractions for people of all ages. One of the most popular rides at this park is the multi person ride, pacific spin. Check out all the other rides here through the link above.
Knotts Soak City Chula Vista – Knotts Soak City in Chula Vista California is another superb water park. They offer many great attractions to chose from and this park will thrill everyone from a toddler to a grandma. Check this park out.
Knotts Soak City Palm Springs – What says sun and fun more then Palm Spring? Nothing! Knotts Soak City in Palm Springs is a fantastic water park with tons of attractions. Look through our page and find all that this park has to offer. You will not be disappointed.
Aqua Adventure – Aqua Adventure is located in beautiful, sunny, Fremont California. While this isn't a large park, it is a cozy fun filled atmosphere. They even offer swim lessons here for your young ones. Check it out.
Golfland Sunsplash Roseville – Golfland Sunsplash water parks are some of my favorite parks out there. They combine traditional water parks with fantastic miniature golf courses. They offer fun for all ages whether you like water or not.
Dry Town Water Park – The Dry Town Water Park in Palmdale California is a fantastic venue. With low cost's compared to other parks, this water world still offers plenty of attractions. Devils Punch Bowl is a cool and fantastic ride. Find out more through the above link.
Raging Waters Sacramento – From Dragons Den to the Cliffhanger, Raging Waters in Sacramento offers some of the best attractions for water parks in California. Definitely take your time and explore all the aspects of this park. You wont be sorry.
Raging Waters San Dimas – Like the other Raging Waters parks, the one in San Dimas California does not disappoint. Have a water ride you have been thinking about? More then likely this Raging Water park has it. Read more above.
Raging Waters San Jose – No matter what age you are, Raging Waters in San Jose has the water attractions for you. Look through our full information page about this water park and plan your day out before you go.
Legoland Water Park – The Legoland water park in San Diego California has a tremendous amount of rides for your enjoyment. Actually, this park has over sixty rides and attractions. Everything from the full tilt water slides to the kiddie pools. Check it out through our link above.
Wild Water Adventure Park – A family friendly water park, Wild Water Adventure Park in Fresno California has something to offer for everyone. This park is a must visit on my water parks list. Read more about it through the link above.
Six Flags Hurricane Harbor – The name Six Flags brings a lot of expectations with it. This is one of the original amusement parks around our country. Find out here if this water version of the original competes with the rest of the California competition.
Waterworks Park – Looking for a good family friendly place for a good day of water fun? Water works Park in Redding just may be the perfect place for you. They have a good amount of water attractions. Check it out above.
Waterworld California – Waterworld is located in Concord California. This is only 25 miles from San Francisco. They offer many great water rides for you to chose from. You can find out more about it in the link above.
Indoor Water Parks in California
While indoor water parks have become all the craze in the northern states, unfortunately it looks like it has not taken hold in the great state of California.
In my opinion, one of these parks would do great in the norther part of the state. But hey, what do I know?
We hope you have found all the information you were looking for about water parks in California. We strive to provide the most up to date and accurate information possible.
If we have missed your favorite park or a water park you know about, please let us know by using the "submit your park" link. We will make sure to get it on the site as soon as possible.
If you have any questions or comments, please email us through the "contact us" link at the top of this page.