Water Parks in Arizona – Indoor and Outdoor
Water Parks in Arizona enjoy the fantastic warm climate of the desert to help them stay open longer than other states. I can't think of a prettier state with a better climate to enjoy a water park.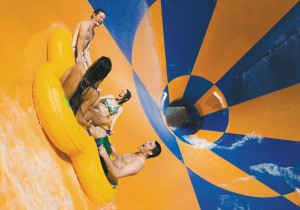 Arizona water parks offer a variety of different amenities you may not find in your area. They tend to be lavish parks spreading over acres of ground.
Whether you are planning a trip to the Arizona area or already live there and just want a fun day out, WPW has all the information you need to find the perfect water park for your liking.
Indoor water parks have become very popular in the northern parts of the United States. Unfortunately it doesn't look like they have made their way to the state of Arizona. I look for this to happen soon.
There are many things to consider when choosing your water park. What kind of "parker" are you? Do you enjoy slides or wave pools? Maybe you just like to hang out and sun tan on a deck. Read the information below and you will definitely find something that fits you.
Below you will find information on all the water parks in Arizona. Have a look at each page to find valuable facts, directions and nearby hotels.
Outdoor Water Parks in Arizona
Big Surf Water Park – The Big Surf Water Park is located in the fantastic town of Tempe Arizona. This park boasts the "very first wave pool". In addition it has many different water slides for you to chose from. Click the link above for more information.
Wet N Wild Phoenix – Wet N Wild Phoenix is one of Arizona's best water parks. It boasts plenty of water slides for you to chose from including the radical "Constrictor". This is a good sized park with plenty of attractions to chose from. Find out more in the link above.
Oasis Water Park – This is a seven acre water park built around the Arizona Grand Resort hotel. Located in Phoenix this resort can be a fantastic getaway for a family or a pair wanting some rest and relaxation. There is plenty to chose from and you can find out more from the link above.
Golfland Sunsplash – What a fun and exciting place to visit. Golfland Sunsplash is located in Mesa Arizona and has a bunch of fun attractions for people of any age. In addition to their multiple water slides and fun water activities, there are also things like miniature golf. Find out more about this fun filled place above.
Breakers Water Park – Breakers Water Park in Marana Arizona is a must visit! This park has more attractions then you can shake a wet stick at. Boasting a 1.3 million gallon wave pool and ton's of water slides, this park is a can't miss. Check out more in the link above.
Indoor Water Parks in Arizona
Unfortunately we were unable to find any indoor water parks in Arizona. If we are wrong and you know of one, please let us know about it by submitting the information here.
We sincerely hope you found the perfect water park you were looking for. We strive to provide the most current and accurate information. If you have any questions or comments for us, please feel free to email us through the "contact us" link above.
If we have missed your local Arizona water park or you know of water parks in Arizona that we don't have on this page, please let us know by using the submit your park link and we will make sure to get the information up here.
Now get out there and have some fun in the sun!